Smart and Green Sydney
Since 2016, the City of Sydney's Smart Green Apartments program has focused on improving the water and energy efficiency for residential strata buildings. The free program has helped over 150 buildings so far, with an average cost savings of around 35%, or $57,234 per building per year, according to the City of Sydney.
The City is investing in 20-30 residential strata buildings annually over ten years to reduce energy and water use, to improve waste management and demonstrate the sustainability potential across this sector. Each building is provided access to numerous sustainability services and tools, including SUMS Online data portal.

Data-Driven Sustainability with SUMS data Portal
With a dependable commitment to residential strata and utility sustainability, SUMS group was successfully awarded a tender in 2016 to work with the City in the program. Heading into its fourth year, SUMS Group has continued to be an integral part of their sustainability initiatives, particularly in data monitoring and management.
SUMS provides access to a comprehensive and user-friendly portal to participating buildings. Here, building representatives and the City of Sydney can view historical and their daily interval data. Usage patterns, insights and automated alerts are used to discover potential water leaks and identify opportunities for sustainability improvements.
The portal provides evidence of any utility savings that result from the initiatives made, and allow the residential buildings to make data-driven decisions. Over the years SUMS Group has proven to be a key component in the Smart Green Apartments program and manages the complex residential sector utility monitoring needs with ease.
Water Reduction for Summit Apartments
In 2017, Summit Apartments was selected to be participant of the Smart Green Apartments and WaterFix programs. The 35-story residential tower built 2001 in the Sydney CBD has 412 units with a ground floor retail arcade. Summit Apartments involvement in both of the programs saw a significant reduction in water consumption, with massive savings of over $61,000 per annum!
Installation of SUMS data loggers began in early 2017, where the WaterFix initiative provided a detailed water analysis report shortly afterwards. This report highlighted the high and stable water usage and found leaks within the apartments. The report also identified areas of significant cost savings and opportunities to dramatically reduce water consumption. With a reasonable estimated return on investment of 2.2 years, the proposed changes were passed in May 2017. Improvements included;
Flow reducing shower heads
Aerator tap fittings
Dual flush toilets
Fixing tank defects
Finding detectible leaks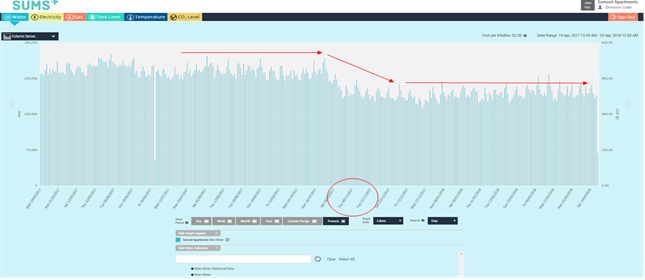 Ultimately, the collection of initiatives saw a 30% reduction in overall water usage. 144 litres of water per bedroom per day was saved – down from 472 litres to 328 litres.
This reduction was visible on the SUMS portal and highlights the need to monitor utility consumption, evaluate usage, and implement improvements. The Smart Green Apartments program has resulted in an estimated annual savings of over $61,000, with a 3.8-year return on investment.
Beyond Data
Smart water and energy metering is an integral part of sustainable resource usage. It should be used as a tool to understand consumption patterns and evaluate initiatives. Having access to data is important, however, having the knowledge of how to best use this data will be the driver of change.
Working with each participating building, SUMS focuses on getting building managers and key staff ready to capitalise on their data. At the beginning of 2020 SUMS launched an updated data portal engagement program with the program participants. A series of in-person and online meetings and training provides the tools and resources to get the most out of the SUMS Portal and to demonstrate the value of smart energy and water management to building owners and managers.
During the program SUMS has been successfully stimulating growth in advanced energy and water management practices across the residential strata sector and is looking forward continuing this work with the new participating group of residential buildings. If you are interested in joining the program please go to the City of Sydney Smart Green Apartments webpage and learn more!
For more information:
SUMS Group, email: info@sums.com.au
Smart Green Apartments Program Webpage
Outi