World Tower is an iconic 230m skyscraper located in the heart of Sydney. The building is the city's tallest residential tower featuring a shopping centre, hotels, office buildings and residential apartment towers with close to 700 apartments.
In response to high water usage in World Tower's commercial buildings a decision was made to install fourteen Uridan waterless urinals to replace flushing urinals. The Uridan Admiral was selected due to the product's sleek appearance, ease of servicing and the water saving attributes.
The Results
Installation commenced in April 2015 and water savings became apparent almost immediately. Overall water usage across the entire development dropped by 14% (with 7.9% attributed to the installation of Uridan waterless urinals and 6.1% attributed to a reduction in overcrowding). Average water use was reduced by 87,000 litres per week (when comparing water usage across the first four months of the year to the three months after installation of the Uridan urinals).
These water savings represent annual water savings of 4,524kL equating to estimated cost savings of $15,246 per annum.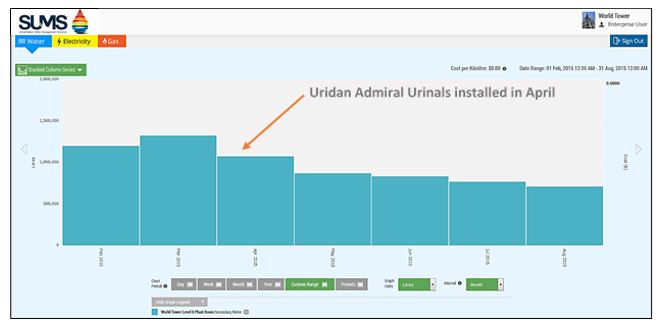 Watersave SUMS™ illustrating the reduction in water use in the commercial tower
Comments from the Building Manager
World Tower's Senior Facilities and Building Manager, Erek Sudhakar, from Sydney based Building Management Australia, looks after common area facilities on behalf of owners. Building Management Australia is a company with a reputation for delivering reliable facility services and building management solutions designed to manage and maintain residential and commercial complexes.
Erek Sudhakar says: "We have been focussing on water management at World Tower for the past year. First we installed SUMS™ from Watersave Australia in order to view water usage in 15 minute increments. This gave us a much better understanding of consumption. The SUMS™ graphs confirmed high usage in the commercial towers and a decision was made to proactively reduce water usage in these buildings. Uridan waterless urinals were selected due to their proven technology and the attributed water savings. Other water savings initiatives included the installation of 5 star aerators in commercial amenities. "
"We are pleased to report that together these initiatives have resulted in a 14% reduction in water usage. We aim to continue with online monitoring and water management for further improvements and positive impacts on sustainability at World Tower", says Erek Sudhakar.
admin