Port embraces smart meter water data and insights for multi-purpose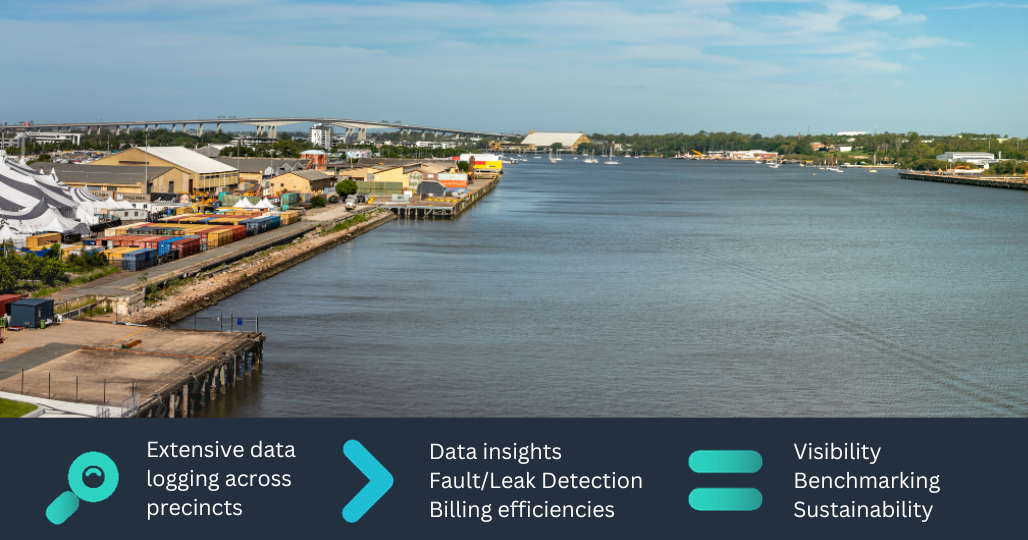 Pictured: Port of Brisbane, Queensland
Geographically, Port of Brisbane is Australia's largest capital city port spanning approximately 1870 hectare (ha) footprint of 'wet and dry land' designated for industrial and commercial use. With 24/7 operations across dispersed locations, gaining accurate and timely water consumption data with SUMS 4G solution has improved visibility and understanding of water usage across the network, decision-making, billing, operations and ESG reporting.
Collaboration
The Port of Brisbane comprises over 70 businesses across five precincts involving a mix of industrial, transport operations, marine infrastructure, and retail/commercial tenants. In 2020, the Port entrusted SUMS 4G smart meter solution, a system that required limited infrastructure to deploy and support. SUMS local presence, Australian made data logging systems, along with tried and tested experience in South East Queensland continue to strengthen our collaboration.
The Port relies on accurate meter reading for a true reflection of water consumption across facilities and operations. With 15-minute data intervals running around the clock, the Port is continuously gathering significant data points and insights that are useful at a macro and micro level.
The Port and SUMS exchange data reliably and securely following strict protocols—enabling the Port to use the data effectively across different platforms and Divisions to facilitate:
Billing efficiencies
Leak and fault detection through alert systems
Customer engagement and water reduction strategies
Benchmarking/trends for consumption profiles
Future asset and infrastructure investment decision-making
ESG reporting and sustainability targets
The Port of Brisbane is investing in infrastructure for the future, with a commitment to sustainability that is good for the planet, its people, prosperity, and partnerships. We proudly support the Port's vision and continue to evolve and expand our service capabilities to enhance the Port's capabilities.
Janelle Lofthus