Smart utility management uncovers huge water saving for retirement village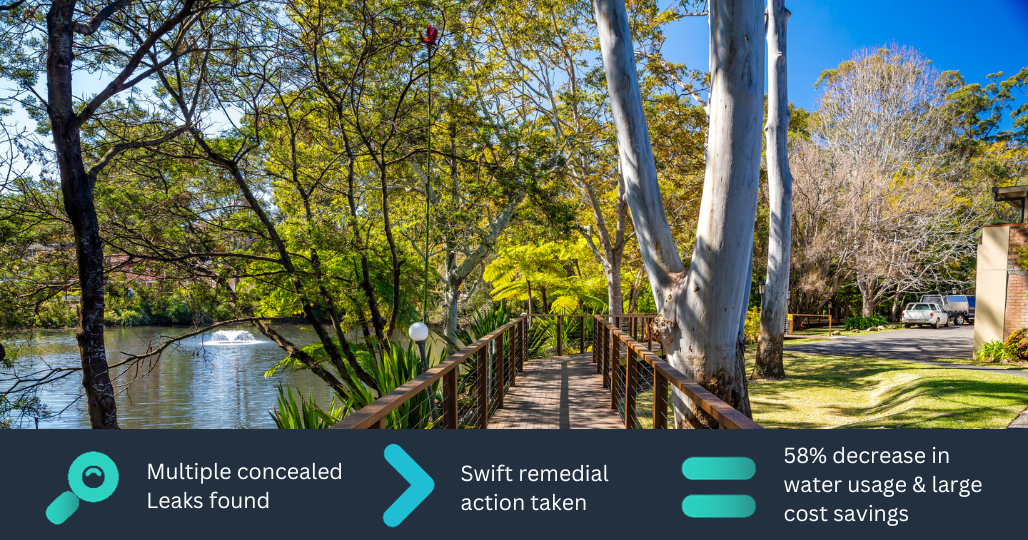 Pictured: Brentwood Retirement Village, Kincumber, NSW Central Coast.
Keyton, formerly Lendlease Retirement, engaged SUMS Group to monitor the water consumption at Brentwood Retirement Village, a site that passes through 4 boundary water meters to service a total of 547 villas and serviced apartments set in 60 acres of coastal hinterland.
To monitor the water usage SUMS Group installed data logging systems on each of the 4 water meters, recording the flow of water as it occurred and displaying the data in graphical form on the SUMS+ Portal.
Discovery
After reviewing the usage data showing a minimum flow rate of 240 litres/minute, it was immediately apparent there was a substantial leak somewhere on the site. Left unresolved, this water loss would amount to 126,144 kL over a 12-month period at a cost of approximately $374,000.
The graph below shows the combined usage across all 4 water meters after just 48 hours.

Keyton requested further assistance from SUMS Group to locate the source of the water leak, which involved a leak detection expert. The investigation revealed multiple concealed leaks in the network of water pipes.
Concealed leaks are water losses typically attributed to fractured water pipes underground. Their presence is generally unknown, unless the meter supplying the water is data logged. The granular time-stamped data, produced by the data logger shows the presence of a concealed leak and the precise time of use.
Outcome
After identifying the source of the leaks and undertaking remedial action to fix the problem, Brentwood Village experienced a 58% decrease in water usage overall and a significant reduction on water bills.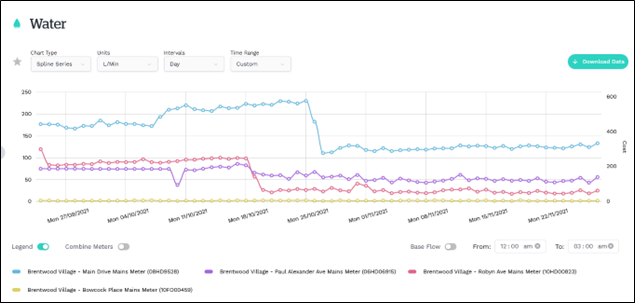 Kam Basi, National Sustainability Manager, Retirement Living at Keyton, says:

Collaborating with SUMS on water management issues has been a game-changer.  The team's approach and smart utility management solutions have delivered resource savings, operational efficiencies and cost savings beyond our greatest expectations.

 
Brentwood Retirement Village is one of several Keyton retirement communities that trust SUMS experience and innovative solutions to support its environmental sustainability practices and mission towards net-zero.
Janelle Lofthus