'Elanora Heights Primary School's mission is to develop in children, attitudes, skills and knowledge so they achieve their full potential and realize self-worth in a harmonious environment. This belief underpins the long term and day to day operation of the school.' (*Excerpt from Elanora Heights Public School's Website)
This philosophy is clearly evident in the school's attitude to sustainability. The School Principal at Elanora Height Primary School, Bill Gillespie, recently installed Watersave SUMS to monitor the school's water usage and the results have been astounding.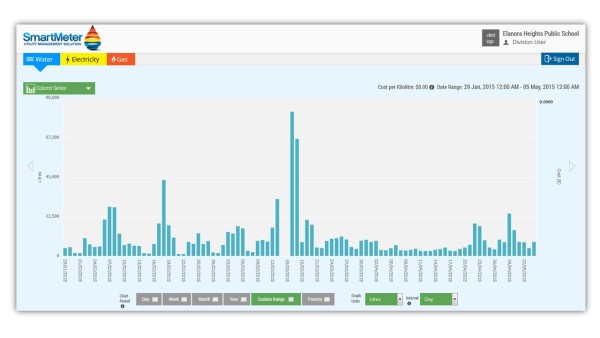 Graph illustrating the drop in water usage at Elanora Heights Public School
Over the first 2 months of the 2015 school year, water usage per student per day equalled an average of 20.04 litres per student per day.
'The SUMS portal has provided an awareness of where and when water is used in our school and this has introduced a more proactive approach to water management. Today, our General Assistant can look at the SUMS graph and identify almost immediately whether excess usage can be attributed to a faulty cistern, a leaking bubbler or a more serious issue such as a cracked underground pipe. We have had one major, very visible leak since the installation of SUMS, and this leak was identified and rectified very quickly,'says Bill Gillespie.
Water use per student per day has now dropped to an average of just 10.96 litres. This reduction in water usage represents a 45% drop in the daily water usage at Elanora Heights Primary school creating a very harmonious environment indeed! Congratulations Elanora Heights Primary School!
admin