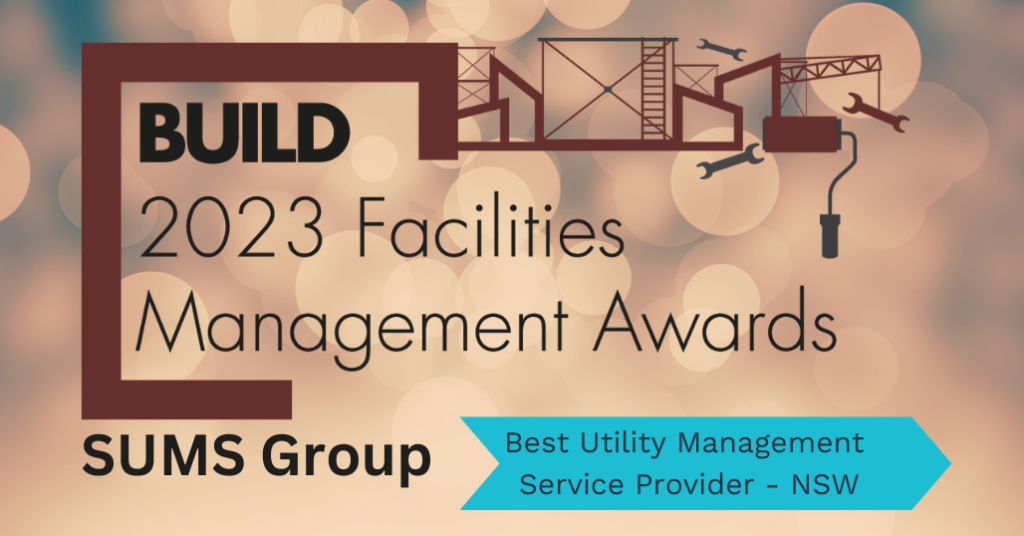 We are excited to announce that SUMS won the award for Best Utility Management Service Provider (NSW) hosted by BUILD—2023 Facilities Management Awards.
According to BUILD, 'Going into 2023, the top two trends concerning the FM industry are sustainability and the Internet of Things, with a more sophisticated and applied use of data to compliment senior-level decision making driving the FM industry forward.'
For 20 years, SUMS has been collaborating with facility managers across Australia committed to finding ways to improve operating efficiencies, reduce waste and save costs. With buildings responsible for 40% of the worlds's energy and 30% of the world's available drinking water (cited by NABERS), and all Australian states and territories are committed to net zero emissions by 2050 or earlier, facility managers are under immense pressure and scrutiny to reduce the carbon footprint of their facilities and report on performance.
Paul Marsh, Managing Director at SUMS says, 'It's an honour to be recognised for this FM Award for our utility management services. Helping organisations and facility managers achieve sustainability gains, business efficiencies, and stakeholder engagement through simple, powerful technology solutions is so rewarding. Once armed with real-time and historical consumption data, Managers quickly experience the benefits of our smart technology solution–saving them time, mitigating waste and often reducing their utility bills in the process.'
About the Awards
Launched in 2016, the Facilities Management Awards, hosted by BUILD, celebrates businesses and organisations that ensure offices, sites and premises around the world are well-maintained, safe and operating at peak performance. Here's BUILD's official press release and the full 2023 FM award winners list.
Janelle Lofthus